Mayor Townsend, by Executive Order, has declared a State of Emergency for the City of Dixon
due to the threat  of the COVID-19 VIRUS.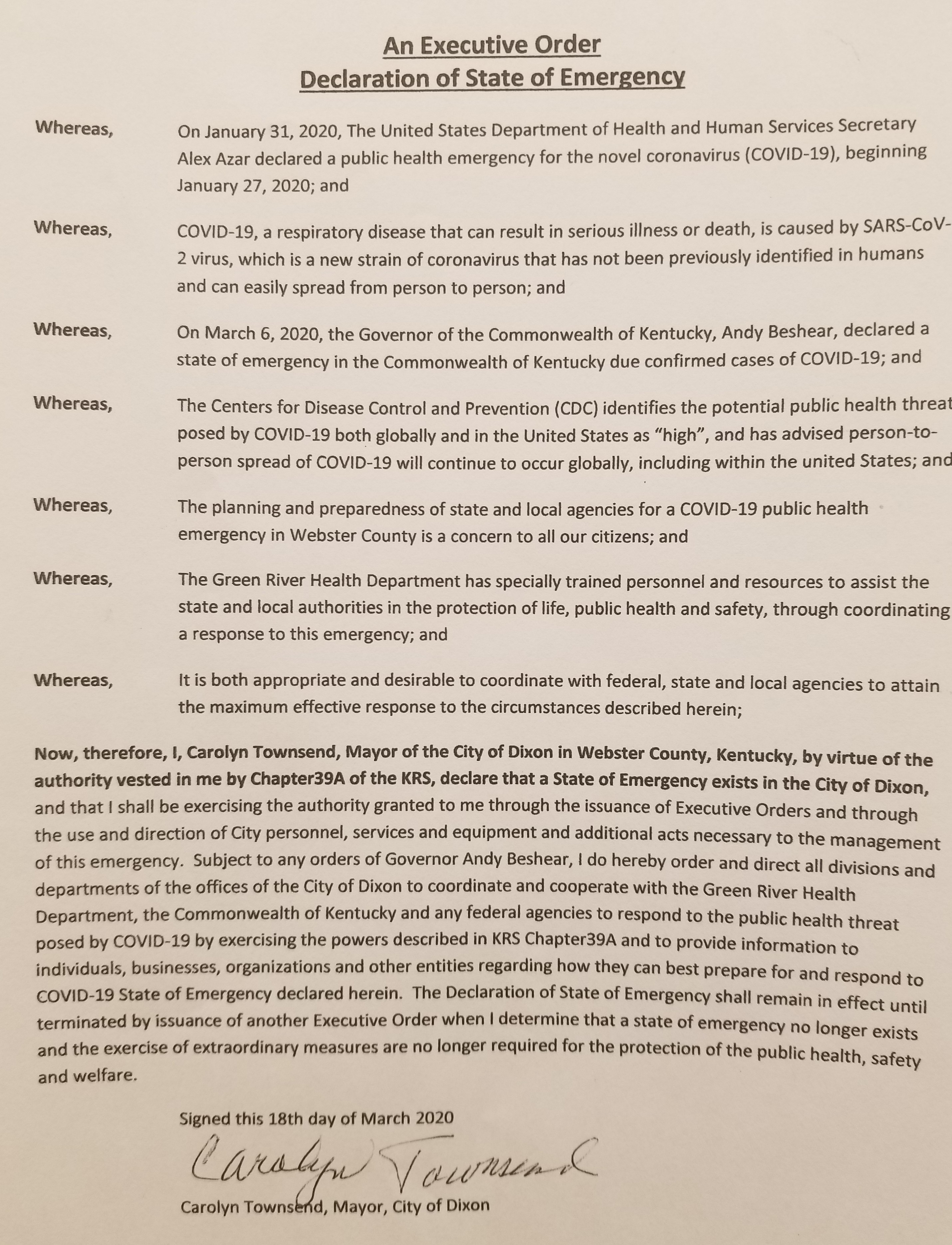 Keep up with us on Facebook: City of Dixon KY
About
In 1794, Revolutionary War veteran William Jenkins established a stagecoach inn five miles north of Dixon's present site, on the old Indian Trail between Nashville and St. Louis.  This area eventually was established as Dixon, Kentucky, in 1860 when Webster County was also formed.  The city was named for Archibald Dixon, Lieutenant Governor and US Senator, and opened its first post office in 1860.  Dixon was incorporated in 1861 and is the county seat of Webster County.  Presently located at the junction of US Highway 41A and State Route 132, the downtown area has a number of historic homes and a rich history of Civil War skirmishes.    
Mission Statement
The City of Dixon strives to provide a variety of services to the community in an efficient, cost-effective and cooperative manner. The City of Dixon is a proud, proactive, progressive Community committed to providing leadership with a goal of enhancing the quality of life for our residents. The City of Dixon will serve its residents, businesses and visitors through leadership, partnership and the provision of effective and community focused services. The mission of The Mayor, Commissioners and Staff is to work together to create and implement strategies necessary to turn this vision into reality. 
Pay Your WaterBill Online
City of Dixon customers can now pay their bills online 24/7 with a credit card, debit card, or eCheck. This service is provided through Pay N Seconds, a third party payment processor, specializing in secure bill payment options. To make a payment through this service, simply click on the "Pay your bill online" button below and you will be instantly directed to Pay N Seconds. If you are using this service for the first time, you will need to register a new Pay N Seconds account one time prior to making your first payment. When registering, you will need your Account # and Zip Code from your utility billing statement. Pay N Seconds allows you to add multiple City of Dixon accounts under the same login. If you have more than one utility account with City of Dixon, please register your primary account first. Then add your additional accounts once logged in.
Mayor - Carolyn S Townsend

Commissioners 
Terry Webb     Randy Norman     Dorris Crowley     Jeff Graham
City Clerk -Barbara Goff
Public Works Director - (vacant)
Fire  Chief -  Jeff  Yates
City Attorney - Ben Leonard